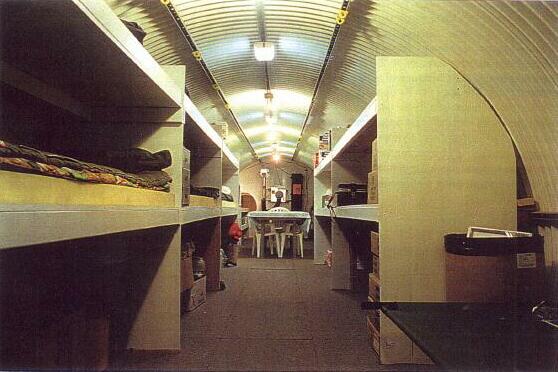 Typical underground shelter interior view
EXO DISASTER AND NUCLEAR SHELTERS

P.O.Box 10047
5576 Yonge St.
Toronto, ON
M2N 0B6
Canada








Exo Disaster and Nuclear Shelters supplies and installs complete underground residential type shelters well suited for emergencies including conventional and nuclear warfare, fire, earthquake, home invasion, winter storm, tornado, huricane and EMP.


The tragic events of the recent past have once again reminded us of the need to strengthen our preparedness to face predictable but unexpected dangers and disasters.

Traditionally, Americans and Canadians have thought of themselves as sufficiently remote from direct attack or warfare. 30% of Europeans, however, due to their repeated historical exposure to wars and other disasters have ensured they have access to disaster sheltering. Swiss building regulations do not even allow for homes to be built without nuclear shelters.

In recognition of the need for increased protection for Canadians in our increasingly troubled times, our company has embarked on a joint effort with a U.S. based associate to supply Canadians with disaster shelters.

Exo Disaster and Nuclear Shelters' architect can design a shelter that is well suited for your family's needs. Our company's association with nuclear science, structural, mechanical and electrical engineering experts enables us to supply you with the safest and most durable product. Our company will negotiate with local municipal building departments for compliance with local building codes and municipal zoning and secure building approvals.

We will have our forces undertake the complete site preparation, supply and installation of pre-fabricated steel or custom designed concrete shelters, together with all the equipment and interior finishes at client's option.

We will even assist you in arranging economical financing for your project.







Please CLICK on any of the menu options above for information about the shelter products we offer.

Please feel free to contact us and request further technical details to be sent to you via e-mail.

Should you wish to meet with us in person, and view our presentation video, please let us know.

We will be delighted to review your requirements and provide you with advice and a price quote to supply and install an emergency shelter for you family.

During the past 20 years we have had the opportunity to design and build homes, and other buildings of the traditionally outstanding Canadian standard of quality not only here, but also overseas in several other countries. We welcome any challenge anywhere in the world.